Back to our catalogue
Download flyer
ENCORE
original title: ESCHE
2014, documentary, 99 min, color, DCP, Russian
biopic
music
poetry
Pop Mechanics
rock-n-roll
St. Petersburg
underground
USSR
CATEGORY :
Documentary
DOCUMENTARY CATEGORY :
Art / Music / Literature / Culture
COUNTRY:
Ukraine
PRODUCTION :
CAST
Leonid Fyodorov, Oleg Garkusha, Dmitry Ozersky, Vladimir Volkov, Nikolai Rubanov, Mikhail Kolovsky, Yuri Parfyonov, Viktor Bondarik, Boris Shaveynikov, Kirill Miller, Sergey Vasiliev, Mikhail Rappoport
CREW
Director
:
Screenplay
: Dmitry Lavrinenko
Cinematographer
: Aleksey Strelov, Aleksey Gritsenko
Producers
: Dmitry Lavrinenko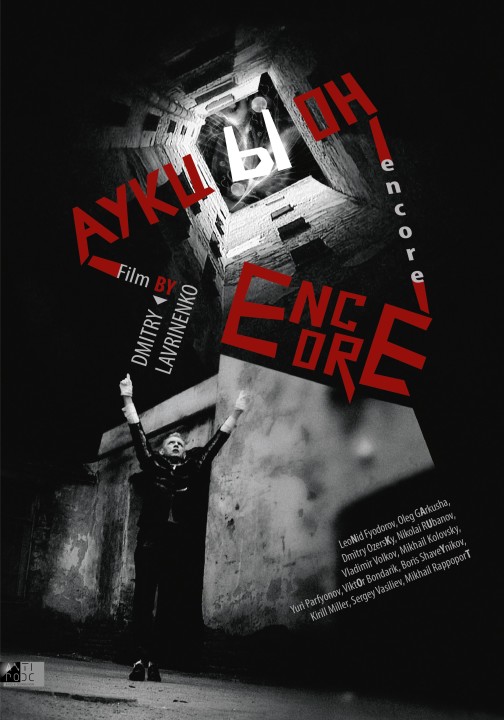 COMMENTS
The story of Auktyon is a movement against the grain, an anti-advertisement, anti-popularity, anti-glamour, anti-promotion and anti-PR, it is just a continuous anti.
DIRECTOR'S NOTE
When I started filming, I was not guided by any musical film, though I see a lot of films, especially documentaries. From my point of view, documentary is a very important kind of film, a somewhat archetypal film. Things you see in reality are much more powerful than invented ones. And, speaking about the idea of the film as a whole, in the case of Auktyon I tried to depict a band which I think to be the closest to reality. I have not planned anything definite and I did not have any clear vision of the result. In the beginning we filmed a cycle of very conventional interviews with questions like "tell about your music" or "what sense do you put in your texts". But in the final version almost nothing was left. Later I taped the episodes of musicians' everyday life: concerts, work in studio, parties. The film includes such episodes as dear Boris preparing pasta for everyone or sweet Nikolai creating a contrabass marimba at his summer house or many others of that kind. We filmed it in St. Petersburg, in Moscow, in Karelia where Ozersky has a house. There is an episode from a tour of United States, a very rich voyage to Koktebel'. In general, during this time the life was very eventful.
From the musical point of view, it is difficult for me to find the right words to define the value of the group. Yes, I like it, but I do not listen all the time to the Auktyon, and in general I try not to look at them with the eyes of a music fan. When we filmed, I did not treat them as a legendary figures, in the way they are seen by the public. I was just a lens, recording a reality. Or a surgeon: when you edit the film, you must be able to cut your own material, even when it is very good, to make a coherent picture.
This band is not completely explicable, which makes it even more precious. By the way, there is a good episode in the film: once we took a camera and went to speak with the people who came to the concert. And then it was said that Auktyon is a very honest band, they never lie. They can make mistakes, they can be wrong, they can search for something or be misunderstood. But with these guys, there is not a bit of hypocrisy. They are similar to the real documentary cinema: it impresses you only when it is made seriously and honestly.
SYNOPSIS
Many-many words have been written and a few ingenuous TV documentaries have been filmed about the great Russian rock band Auktyon,  which recently celebrated 30 years of playing music.
 Everything is completely different in the case of the film Encore: it took seven years for the director, Dmitry Lavrinenko, to make it; he needed just that amount of time to capture the wayward grace still preserved by Fyodorov, Garkusha, Ozersky and their associates. If you look behind the powerful music façade, you find not a story of a band but chronicles of a voyage aimed at incredible, incomparable music. Encore shows how the songs which are now known by heart were composed; it also shows things generally left aside: pieces of everyday life, tour diaries, conversations, including the key phrase: "You should not look at the liberty too much, you might feel dizzy.
PRESS
Can there be any solemnity in a film about a rock band that never stops running away from stardom? They are not 'born for boogie' or 'fallen from a star' – they are just ordinary boys from St. Petersburg (grown men now) who, during their whole life, are just doing what they love to do. It just happened that what they do is loved by hundreds of thousands of people, it is pleasant for them but they do not take it too seriously.
That is how the film begins, actually – with Fyodorov's words, later repeated in different ways by other characters, about how he does not care a straw about glory and stardom, he only interested in everything being honest. Naturally, the director (same person as the editor) instantly shows a crowded hall, screaming after a concert.
All the two-hours-long film is built on this contrast – a legendary rock band and a group of old and true friends.
We can see the Auktyon triumphant as they finish their set on the stage of an enormous metropolitan club – and then good-natured Boris Shaveynikov in the small kitchen in Fyodorov's home, roasting mushrooms to make a sauce – and finally seven men and one fragile woman, Fyodorov's wife, sitting down to have a dinner.
We can see Garkusha in all his concert magnificence, with all the boldness of 'Kharms resurrected' – and we can see him fifty-year-old, a wiser person, who tells us with a smile how he gave up alcohol and got rid of kidney stones.
We can see a fervent avant-garde artist, 'Kolik' Nikolai Rubanov arguing that Fyodorov is a real Zen teacher but does not know it while he sits in a country house, drinks tea from a samovar and works on a homemade marimba.
We can see Volkov on the stage – a mad 'human contrabass' – and his unfeigned embarrassment as the director asks him a frivolous question – is it easier for a musician to make acquaintance with girls. "Easier than for whom? Than for a footballer? No, it is not".
We can see Bondarik meditatively fishing – and himself unhappy after he made a poor studio record.
We can see Ozersky explaining the sense of the song 'He was falling' and suddenly says: "In reality, very few people managed to fit themselves into the life. We all pretend to have done this, but very few people actually did it"
And, finally, the most precious cadre of them all: Leonid Fyodorov, a moment ago impassible and detached, not noticing anyone or anything on the stage, is radiant as he looks with happy eyes at his comrades and colleagues who just have perfectly played an instrumental peace for "Yula". It is suddenly evident who is the art director and how he sees his partners.
Mikhail Vizel', SOUNDS
What is especially amazing about Lavrinenko's work is how deeply he penetrates in the world of the musicians of the band. His camera managed to capture not only the recording, but also the composing of songs – the whole process of which even the authors themselves do not always understand the nature. We see Leonid Fyodorov, spinning meditatively as he plays out the chords of a new song, Homba that everyone knows nowadays, for Dmitry Ozersky, the author of almost all the texts of the songs. "I see the stakes, I hear the wings" – laughs Fyodorov, adding to himself: "My God, what a nonsense". But the line is already bord and has now a life to live…
A documentary filmmaker, one of those who study their object 'under the microscope', Lavrinenko made a very human and friendly film. What is especially important, the author is not depicted in the movie, but then suddenly you realize that it is very important to be close to the artist but not hamper him, without creating borders, without embarrassing people by your presence, just to be an unnoticeable chronicler. Dmitry Lavrinenko, a very modest director, undertook this difficult mission.
Encore is not a TV film. It does not anything to do with TV. It does not have specially-designed sequences, perhaps a little bit in the style of the amateur video, and even this just to have fun. 
Yevgeniya Tyulkina, Novye izvestiya