Back to our catalogue
Download flyer
Eastern Business
original title: Afacerea Est
2016, 84 min., Romanian-Russian
absurd
adventure
hicksville
post-Soviet space
CATEGORY :
Dark Comedy
COUNTRIES:
Moldova
,
Romania
,
Lithuania
PRODUCTION :
FESTIVALS & AWARDS
CAST
Ion Sapdaru, Constantin Puscasu, Daniel Busuioc
CREW
Director
:
Screenplay
: Igor Cobileanski
Cinematographer
: Feliksas Abrukauskas
Producers
: Iuliana Tarnovetchi, Dagne Vildžiunaite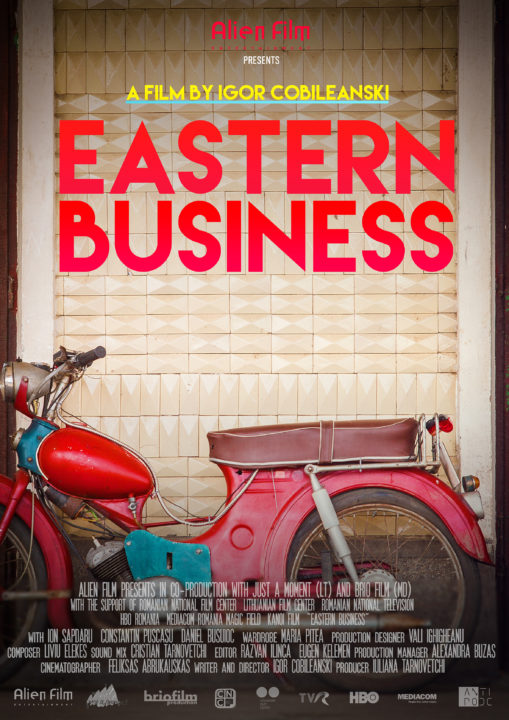 COMMENTS
FilmFestival Cottbus 2017, FUNCINEMA 2017, European Film Festival Palic 2017, FICiP 2017, Philosophical Film Festival 2017, LET'S CEE Film Festival 2017, Cairo International Film Festival 2016, Transilvania International Film Festival 2016, Tallinn Black Nights Film Festival (PÖFF) 2016
An unlikely friendship between two different Moldavians who dream of fortunes. An absurd road movie scattered with laughers as well as gloom.
INTERVIEW – IGOR COBILEANSKI
How would you summarize in a sentence the story of the film?
Two men try to sell a wagon full of horseshoes and in the process they become best friends as well as fierce enemies.
Is the movie reflecting Moldavian realities or is pure fiction?
This film moves away from reality, it's rather my own way of seeing things: with a bit of sarcasm, cynicism and with a smile. It's my attempt to describe some characters in a less normal situation – where the absurd takes over.
What were the biggest challenges you faced while shooting Eastern Business?
I find it more difficult to make a good comedy. Not always the situations that I find amusing are comic to everyone. So this is a first challenge – to try and make the story funny for all audiences and the humor universal.
The second challenge was working with a multitude of actors, some from Bucharest who had to speak with Moldavian accent. Casting lasted for almost two months and included actors from Moldavia, as well as from Romania, and I am confident we made the best choices for this film.
Another challenge consisted in recreating Moldavian and surreal sets in Bucharest and surrounding areas. It wasn't easy, but I think the whole team did a great job.
How would you describe the atmosphere of the film?
We shot last summer in some scorching hot days; all was sweaty, dusty and burned. On set was a sluggish mood and even the easiest moves were complicated – we were literally melting down. And I think this feeling was very well captured on film.
What's the story of the production of the film?
The story was written 8-10 years ago. It's a project that mixes the two genres – drama and comedy. I'm comfortable with this position – between two radically different poles, with an absurd twist. The script suffered many changes along the way, I personally re-write along these years and the characters transformed as well. As narrative direction and absurd style, Eastern Business is very similar to the short films I directed almost 10 years ago, such as inspiration. I feel it's like a sequel, but in a longer version of the comical situations and characters in that film. Even though Eastern Business took longer to find the right partners and funding, I feel it came at the right moment and I hope it will be a breath of fresh air for all viewers.
SYNOPSIS
Eastern Business is a dark comedy full of humor and absurd situations. The film tells the story of an unlikely friendship between two Moldavian men, Marian (Constantin Puscasu), a 45-year-old intellectual choir singer, and Petro (Iona Sapdaru), a 40-year-old sneak thief loser.
Confronted with poverty and lack of perspective, the two men start an exhausting journey, trying to make money to reach their dreams. Marian wishes to finally marry his fiancée, Veronica, and Petro dreams about buying a crane and earning money from its rental.
Getting acquainted in jail after a stupid fight, Marian and Petro decide to become business partners and start working towards a plan. They manage to close a deal with three Caucasian gangsters and buy a wagon full of horseshoes, but they are soon robbed and everything seems to be turning to dust. Even if they are constantly followed by bad luck, the two men don't lose their optimism and always try different things to earn their money.
Eastern Business is a charming tragic, yet comic, film about how absurd and sarcastic sometimes life proves to be.
PRESS
by Boyd van Hoeij, The Hollywood Reporter
Cobileanski's first film was co-written by Corneliu Porumboiu (12:08 East of Bucharest), the Romanian deadpan maestro and verbal high-wire artist specialized in turning apparent non-sequiturs into the starting point of sound arguments. But he wasn't involved in Eastern Business, which has made the film more pronouncedly Moldovan as it has allowed Cobileanski to move away from the influence of the Romanian New Wave and its recognizable brand of bleakly absurd tragicomedies obsessed with the past (the fact this new feature wasn't shot by the New Wave's star cinematographer, Oleg Mutu, himself from Moldova, also helps). Instead, the director's own brand of dark observational comedy is allowed to flourish.
Comedia asta sarata te baga intr-o zona foarte faina. Realizezi – daca mai era nevoie – din ce aluat sunt astia care ne conduc, atat pe noi, aici, cat si pe ei, in Republica Moldova. Cum din tractorist poti deveni politician peste noapte daca ai servieta cu bani la tine, cum din profesor poti deveni cersetor, pentru ca sistemul acolo te duce, cum din om cinstit si corect poti deveni infractor, pentru te-ai nimerit, din naivitate, in vartejul lucrurilor, cum din hot devii judecator pentru ca sistemul te recunoaste drept om drept, cum din martor devii partas tocmai pentru ca sistemul nu te lasa sa-ti vezi de treaba. E o tragi-comedie care te duce in poveste si te lasa pe ganduri: "Asa e! Astia suntem! Asa ne ducem traiul".
Breaking Bad?
Nu. BREAKING BALTI
Avem aici perechea Don Quijote si Sancho Panza de la est, cu idealuri mai mult sau mai putin cavaleresti. 'Dom profesor' de muzica (Constantin Puscasu), longilin, uscativ si melancolic, viseaza la succesul in afaceri pentru a se putea casatori cu Dulcineea/ Barcelona lui. Se asociaza accidental si inevitabil cu rotofeiul si mult mai descurcaretul Pedro ('ala cu idei', cum il complimenteaza un politician), excelent jucat de Ion Sapdaru (A fost sau n-a fost). La perechea asta se adauga un sofer etern mahmur (Daniel Busuioc). Pe scurt, umbla toti dupa potcoave de cai morti, pe fundalul unei epidemii de gripa aviara si deznadejde generala.
AFACEREA EST, cel mai recent film de Igor Cobileanski, e picaresc pana in maduva. Pana la definitia de manual:
PICARESC – care, prin intermediul personajului tip picaro (cerșetori, vagabonzi, aventurieri), investighează, cu accente satirice, cele mai diverse medii sociale, moravuri etc., reliefând amănuntul pitoresc, într-un limbaj cu elemente argotice și familiare.