Back to our catalogue
DREAMFISH
original title: Ryba-mechta
2016, 80 min., Russian-Estonian
farce
grotesque
love triangle
mermaid
music
sea life
tale
trash fabulous
CATEGORIES :
Erotic Fairytales
,
Dark Comedy
,
Debut
COUNTRIES:
Russia
,
Estonia
PRODUCTION :
CAST
Vladimir Mishukov, Severija Janušauskaitė, Maksim Vitorgan
CREW
Director
:
Screenplay
: Anton Bilzho, Evgeny Kreov, Ludmila Kruglova
Cinematographer
: Pavel Emelin
Producers
: Andrey Bilzho, Ilya Medovy, Esko Rips, Julia Mishkinene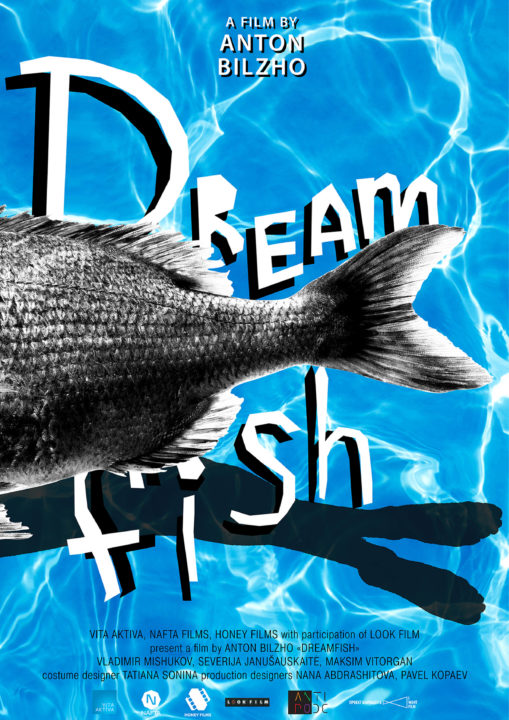 COMMENTS
DIRECTOR'S VISION
My first question is what your film about? What is your message? Is this film about you, is it about men or about women? Is it about a dream?
This film is about a man, about a very specific man. Roman comes to an Estonian spa town and creates his own story which is partly founded on a real life event, his unexpected meeting with a local girl that he cannot entirely understand. Roman's vitally important plans are disrupted, he is seized with something uncontrollable, and the foundation that he dreamed to find in life, virtually slips away. He who imagined himself a detached intellectual suddenly finds himself in an unsteady environment of emotions and passions.
Why does the dream woman come as a fish? Is she slippery and smooth?
For Roman, Helena is a representative of another environment. Her gestures and her words have an inherent logic, mysterious and attractive. That is why a susceptible proofreader working on the draft of the encyclopedia of the Baltic Sea Fishes, sees Helena as a fish. To connect all the dots, Roman makes her a subject of his study. It is the only way for him to save himself and his attitudes. However, as a result, the world would still be disrupted. It is a different thing to be inside and to be outside.
Do man and woman really come from different planets?
A man is often a subject of a painful study for a woman. And viceversa. It is painful because if you love, you always lose your foundation. A man in love – or a woman in love – is carried away by underwater currents, then comes to the surface just to take a breath of fresh air and immediately goes back to the bottom. This tempest leads to a lot of gruesome situations. For instance, you can be terrified by your own reflection or give up hope or lose your mind. In reality, deeply inside, Roman is no scholar at all. He prefers to 'fall in love', as the Englishmen say.
What can you say about the genre of your film? Is it a comedy or a drama? Should the audience laugh or cry?
I am positively sure that my film is a comedy. On the other hand, any joke, if it is told with an uncommon intonation or a little bit slower than it should be, easily loses its humorous meaning and becomes different, sometimes horrible. However, I hope that my audience will smile.
Why did you decide to shoot your film in Estonia? Do these places appeal to you? What role does the Estonian flavor play in your film? What it is like when you shoot your film in a different country?
In my childhood, before the collapse of the Soviet Union, I passed all my summers in Estonia, together with my grandparents. Later I started coming to Ust'-Narva (Narva-Jõesuu) with my own family. It was in Ust'-Narva that I conceived The Dream Fish. It is a very powerful place: lots of air, a large spacious beach, deserted Soviet health retreats, a thin and pleasant coating of stagnation and somnolence. Like it or not, here you will have to learn how to deal with the void. I needed to place Roman in a place like that where his desire to work in peace would turn against him.
I also wished to show the dwelling-place of the Russian intelligentsia. In Ust'-Narva, women really wear bonnets and dress well on sunset. Many famous residents of St. Petersburg stayed here, and so there is a strong inclination for culture. A great part of the film was shot in a real local history museum that we transformed into the museum of Polyanski, the Professor of Ichthyology. The Director of the Museum is also real, it is Lyubov' Nikkar, a friend of mine. The love song in the museum was performed by local women. On the other hand, there are wonderful Estonian actors in the film, with their inimitable body mobility. I believe this combination creates the necessary flavor of something forgotten, something naïve, something coming from our childhood.
Can you name some of your favourite films? Can you name film directors who taught you something?
They told me that my film is reminiscent of works by Aki Kaurismäki, David Lynch and Coen brothers. I did not plan this. Apparently, I do love these directors.
Tell us about your cameraman Pavel Yemelin. Why do you work with him?
I shot almost all my films together with Pavel Yemelin. He is my friend, we have reached mutual understanding, which is very important for me. Pasha does not try to shoot 'elegantly'. He is ready to break all the rules to bring forth the message. Yemelin has seen an immense quantity of films but he does not imitate anyone, he chooses his own way. He has his own way of looking in every film, including the Dream Fish, he was my full-fledged co-author.
What is the artistic style of your film? Tell us about your art director.
My film artists in the Dream Fish were also my friends, my team-mates from other projects, Nana Abdrashitova and Pavel Kopayev. I believe we have found the correct visual key for our story. It is minimalistic, romantic, shabby – a little bit in the style of the old Estonian TV. It was Nana who proposed to shoot the scene where Helena is tied down in the swimming pool and not in the hotel room. It was a beautiful and an elegant solution, for which I am very grateful to Helena.
There is a lot of interesting cameos in your film. Tell us about them.
I invited incredible Estonian actors. For instance, I have seen Rain Tolk in a short film Tühirand / Empty by Veiko Õunpuu. I loved the film. In my Dream Fish every supporting character had to pronounce a monologue. I asked Rain to tell the story of how several years ago he came to Ust'-Narva together with his wife and her lover, how he wished to fix the problems in their relationship but did not manage, and now his wife lives together with her lover while he is lending out boats and contemplates… I wished this monologue to be a sequel to the story of the main character from the Tühirand. I wanted Rain to come to my film from the Estonian one. Unfortunately, we had to suppress the monologues, they made the film too slow.
Andres Puustusmaa, similarly to Rain Tolk, is not just an actor, but also a film director. I met him in a compartment of the Moscow-Tallinn train. At that time, I still was a copywriter, and I travelled to Estonia to see my family. We drank together and we spoke. Andres told me that he studied in the High Courses for Scriptwriters and Film Directors. Somehow his words imprinted themselves in my mind, I returned to Moscow and joined the High Courses. That was how I became a film director. So Andres's participation in my film début is highly emblematic for me on a personal level. He was fine in his role of a very severe crime investigator with a very unhappy personal life.
The receptionist of the hotel where Roman lives was played by charming Diana Klas who is not only an actress but also a singer. Her lover was played by Enrique Fabregas, a Cuban married with an Estonian woman, a DJ, a dancer, a cigar twister and a sun in human form. There is also a striking character played by the wonderful Estonian actor Tarvo Vridolin: he plays a Finn who came to Ust'-Narva in search for love and ran away to the sea together with one of Helena's sisters. To conclude, I should mention a very important person for the film, Jüri Vlassov, an actor and a singer. He plays a local celebrity, a musician playing a keyboard in the bar. All Estonian songs in the film are played and sung by him.
The self-irony is a quality that unites all the Estonian actors. They are not afraid of looking somewhat eccentric. It is a magnificent quality that Russian actors sometimes lack.
Russian cameos include only one professional, Yekaterina Novoselova who played Katya, one of two girls Mark is flirting with. All other roles were played by locals.
The only exception is Andrei Bilzho who traditionally played a doctor: he is a gynecologist for the mermaid and a psychiatrist for the proofreader.
Tell us about the soundtrack, about the Estonian musicians.
While preparing to shoot the film, I came to a supermarket and I bought CDs with all the kinds of Estonian music. They included hard rock that was tender and melodious. I found it endearing. I thought that the film would lose a lot without Estonian music. In any circumstances, it is always melodious, unhurried and charming. Estonian composer Sten Sheripov helped me to find some well-known Estonian songs and to arrange them in a humorous way, sung by Jüri Vlassov. Sten also wrote the charming and bewitching magic song of the mermaids sung by Helena and her sisters for Roman in the bar.
How is it when you shoot a film without money? Would you repeat such an experience?
The film became possible thanks to the financial support from my father, Andrei Bilzho. Of course, it was a least-evil solution to take money in the family. It was enough for just eighteen shooting days. We were very lucky to find colleagues in Estonia, Ilya Medovy and Esko Rips, who decided to help us in making a film with such a low budget. The film was partly funded by the Estonian foundation of the Ida-Viru County where Ust'-Narva is located.
Every team member made a personal exploit. Actors had to sit in cold water for hours, we've lost our camera in the water, everyone was exhausted, we worked twenty-four hours without sleep, we pushed the boats on the sand. Frankly speaking, I would prefer normal working conditions. But as I really want to shoot films, I cannot guarantee that it was for the last time.
When the shooting ended, I took the material to Yulia Mishkinene and then somehow I found myself passing hours in the editing room. A year passed and, quite unexpectedly, it was already the postproduction stage. I thank Yulia, Vita Aktiva, Marianna Morgovskaya, Anastasia Lukovnikova and everyone who helped me finish my film.
SYNOPSIS
Roman is a born proofreader from a family of proofreaders, a real intellectual from St. Petersburg who comes to Narva-Jõesuu, a small Estonian spa town, to find inspiration, tranquility and silence. He does proofreading of the encyclopedia of the Baltic Sea Fishes, compiled on the same location by Professor Polyanski, winner of the Nobel Prize. This work is very important for Roman. He would have accomplished his task, but once he swam too far in the sea. It was then that Helena came into his life, to change his ideas about the world forever.