Back to our catalogue
Download flyer
Rus
Dear Ones
original title: Bliscy
2021, 74 min., color, Polish
CATEGORY :
Dark Comedy
COUNTRIES:
Poland
,
Czech Republic
PRODUCTION :
CAST
Olaf Lubaszenko, Adam Bobik, Izabela Gwizdak, Piotr Żurawski
CREW
Director
:
Screenplay
: Grzegorz Jaroszuk
Cinematographer
: John Magnus Borge, Robert Lis
Producers
: Agnieszka Kurzydło, Karla Stojáková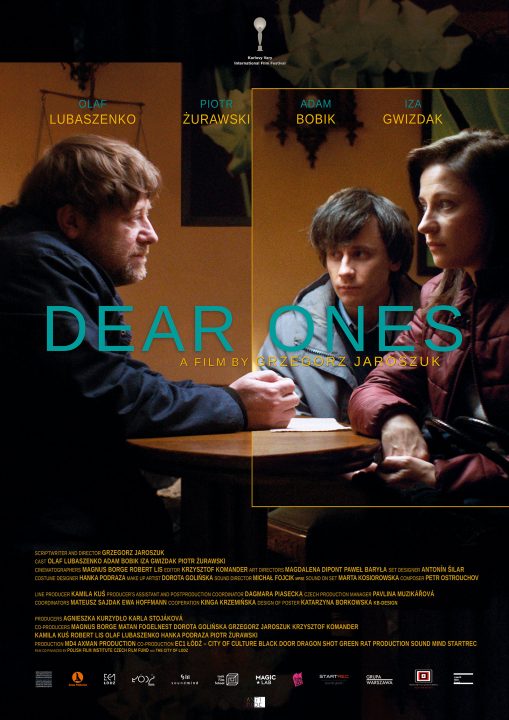 COMMENTS
FESTIVALS: KVIFF 2021 (East of the West)
DIRECTOR'S NOTE
People often don't know how to talk to each other, or how to tell each other the truth, especially if it's a hard truth. That attitude originates in the family; I'd say that a family is a laboratory in which one can observe patterns and phenomena that occur in society.
Additionally, I find it fascinating how people have a huge capability to convince themselves – as well as others – of even the craziest theories, only to avoid telling them the truth. Or to avoid being confronted with it.
I made a film about people living in blocks of flats, who are not special or spectacular. They probably would feel intimidated, if someone suddenly put them in the spotlight. And that type of character is closest to me. My film is set in an average residential area, which implies that nothing extraordinary can or will happen there – that some people and some lives are just ordinary, and they won't be any different.
The character of the father is mysterious, his behavior is irrational and many of his traits can be seen as flaws. When we were casting this part, we were looking for an actor, who could add some warmth and human value to these flaws, who could help an audience to identify with the father. And maybe recognize some of their own failings. Olaf brought a lot of vulnerability and sensitivity to his protagonist and made him likable. When I think of Olaf, the first film that comes to my mind is A SHORT FILM ABOUT LOVE, not his mainstream projects. My intention was to find the sensitivity he displayed in Kieślowski's masterpiece.
SYNOPSIS
STRUGGLE TO BE CLOSE TO CLOSE ONES
Piotr is looking for a purpose and order in his life. To find it, he turns to magic, religion, and psychology. Unexpectedly, his father calls him and asks Piotr to come to his family home immediately. Piotr arrives at the same time with his sister, Marta, whom he hardly remembers and does not recognize. The father called for Piotr and Marta because their Mother went missing. Family members who meet for the first time after many years begin to search together. The facts they discover about their mother make them re-define what kind of family they are. They follow increasingly stranger paths to finally discover the surprising truth. Torn between grotesque and realism, the film "Dear ones" is a portrait of the characters who, confronted with each other, try to organize their relationships.
PRESS
"The comedic devices employed by Jaroszuk may not prompt laughter, but the quirky atmospheres, the embarrassing silences and the characters' ramblings may puzzle and amuse viewers for a few moments before the next pun or surreal character shows up. John Magnus Borge and Robert Lis's cinematography chooses to focus on a cold colour palette, and ties in well with the three lead characters' estrangement and the dark humour of the piece." – Davide Abbatescianni, Cineuropa                                                                                                                                                                                                                                                                                    "Olaf Lubaszenko is a legend in Poland. He's a very famous actor. What the father does is really selfish and irrational, and not a good deed, in a way. I felt that during the casting, I needed an actor with some special tenderness, a delicate man. That tenderness shows us why the father is weak, and not strong enough to tell the truth. Olaf has this special quality in the way he looks, in the way he talks… I found this kind of tenderness in his person." – Grzegorz Jaroszuk to Davide Abbatescianni, Cineuropa
"For me, the most important theme of the film is how difficult it is to tell the truth to theoretically the closest people and how much we are able to do not to tell the truth to others, but also to avoid confronting the truth ourselves. Each of the three main characters has to confront the truth about his own life and only then the real conversation between them is possible. I think that this is the path of each of the characters – by discovering more and more strange information about their mother, the characters come to the conclusion that the only thing left for them is to confront the truth about their own lives." – Grzegorz Jaroszuk to Leo Barraclough, Variety 
"…ma il regista sembra essere tornato alla carica con le idee chiare, mettendo su una coproduzione con la Repubblica Ceca e facendosi distribuire da una ottima casa russa, la Antipode; inoltre ha recuperato l'attore Olaf Lubaszenko al cinema d'autore: era infatti il protagonista maschile di Decalogo 6 e della versione lunga Non desiderare la donna d'altri-Breve film sull'amore di Krzysztof Kieslowski, ma ultimamente aveva optato per collaborazioni più commerciali." – Massimo Tria, NonSoloCinema
"Un film cu o puternică revelaţie finală (care fusese, totuşi, anticipată subtil), personaje memorabile, construite cu minuţiozitate, accente de crime movie şi semnificaţii universale, "Dragii mei" este una dintre cele mai plăcute descoperiri de la Karlovy Vary." – Mihai Fulger, Adevarul
"Bliscy" é um filme de descobertas, não somente de segredos familiares, mas de nós próprios quando confrontados com a bondade dos seus atos. O realizador usa o colorido da vida da matriarca para contrastar visualmente com o espaço cinzento em que ela habitava, usando frequentes tons negros e escuros que nos levam a um thriller dramático com o suave toque de um humor negro que normalmente encontramos mais no cinema da Islândia, Dinamarca e Noruega. – Jorge Pereira Rosa, c7nema
"Podobnie wypadają kreacje aktorskie wśród których wyróżnia się jednak Olaf Lubaszenko, który zdołał unieść koncept "depresyjnej komedii" i obdarzył swojego bohatera charakterem w który widz jest w stanie uwierzyć i uruchomić współczucie. Odwołujących się do nostalgicznych tonów rozliczeń z tradycyjnym modelem rodziny mieliśmy w polskim kinie już sporo. Takie obrazy jak Ostatnia rodzina, Cicha noc czy Fuga odważnie podejmowały ten temat nie szczędząc widzowi gorzkich puent i wniosków. Grzegorz Jaroszuk stara się w swojej twórczości zabarwić tę gorycz komizmem a nawet poklepać widza po plecach." – Mateusz Marcin Mróz, Pełna Sala