Back to our catalogue
Conduction
original title: Dirijer
2015, 65 min., DCP, Russian
biopic
music
CATEGORY :
Documentary
DOCUMENTARY CATEGORY :
Art / Music / Literature / Culture
,
Portraits
COUNTRY:
Russia
PRODUCTION :
CAST
Teodor Currentzis, Vitali Polonsky, Aleksey Miroshnichenko, Natalia Kirillova, Aleksey Bondarenko, Maria Forsström, Simone Alberghini, Nadezhda Kucher, Natalia Buklaga, Dmitry Ulyanov, Stanislav Leontiev, Anna Pushvintseva-Poistogova, Ivan Poroshin, Maksim Yemelyanychev, Afanasi Chupin, Nicola Bartolomei, Susanne Regel
CREW
Director
:
Screenplay
: Alexey Loginov
Cinematographer
: Konstantin Kulikov, Roman Saratovtsev
Producers
: Marc de Mauny, Anna Maslova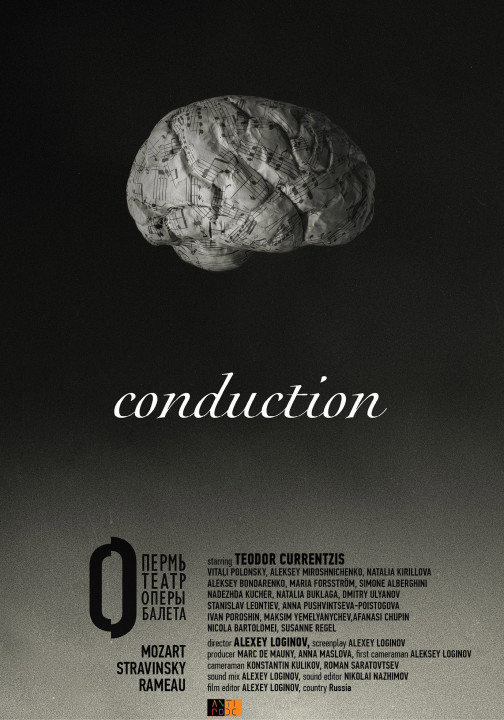 SYNOPSIS
This unconventional film is an observation Teodor Currentzis – one of the most extra-ordinary modern conductors.  Backed by pieces from Mozart, Stravinsky, Jean-Philippe Rameau and with choreography by Jiri Kylian… this film is 64 minutes of love, light, life, beauty and being inside music.
Step by step the viewer is led into the world normally invisible from the audience. Shot is strung on shot, sound on sound, word on word, and suddenly the viewer is submerged into the striking process of creation and sees that the very essence of this process is work. This work is not a treadmill – it's glorious, but on the endurance limit.
What makes the audience feel that something extra-ordinary is about to happen? Why do certain conductors only have to appear on stage to electrify the auditorium? Why is conducting «a shady business"? What are the commonalities between classical and punk music? How does the conductor relive each day?
Conduction is an involving film, dipping into one of the most enigmatic musical professions' atmosphere.
Conductor Teodor Currentzis addresses musicians: "When you play for yourself here, in the pit, the music will stay with you here, but if you think of the music projecting to the gods  –  it surpasses the space". The music flies through the air up to the gods and to the audience. And one can hear the silence beyond the music. The silence of creation. The silence that accompanies the birth of composition. The performance springs up before one's very eyes like a construction site, its energy building until all that is left to do is curtain up.