Back to our catalogue
Download flyer
Brazilian Dream
original title: Brasil S/A
2015, dadaist postdoc, DCP, 72 min,, Portuguese
postdoc
CATEGORY :
Documentary
DOCUMENTARY CATEGORY :
Postdoc
COUNTRY:
Brazil
PRODUCTION :
FESTIVALS & AWARDS
CAST
Edilson Silva, Wilma Gomes, Adeilton Nascimento, Giovanna Simões, Marivalda Maria dos Santos, Maracatu Estrela Brilhante
CREW
Director
:
Screenplay
: Marcelo Pedroso
Cinematographer
: Ivo Lopes Araújo
Producers
: Livia de Melo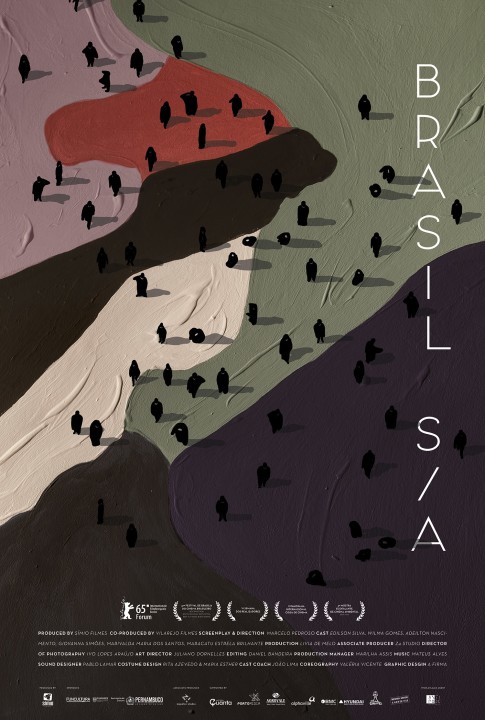 COMMENTS
DIRECTOR'S NOTE
Brazilian Dreams is fruit of reflection on Brazil today. We Brazilians are used to seeing the country as peripheral, subaltern, poor and third-world. But in recent years Brazil has experienced rampant transformation that has reconfigured its archaic social structure. Yet this difficult and paradoxical modernization runs up against problems that seem to be historically determined.
In the film we ask: what images can capture this new country? And we chance a few answers, starting with the delirious fable-spinning of a nation drunk on its own progress. These are images and sounds that echo and, at the same time, collide with the grand founding narratives of the national mindset. Through these images we enter into conflict with the messianic vocation of a Brazil eternally pre-destined to be the country of the future.
Bodies, machines and landscapes move and shudder. Until the final eclipse.
PRODUCER'S NOTE
"Brazilian Dream" is my first film as producer. The project arose at a propitious time when there's a strong policy of support for the development of Brazilian cinema. Marcelo Pedroso's need to give voice to "Brazilian Dream" as quickly as possible meant we had little time to spend on financing, and we went straight into production as soon as we received the first funds from the Pernambuco State Audiovisual Sponsorship program. It's a delicate film in terms of production, blending a number of unusual situations: a ballet of heavy machinery, mega locations, the hoisting of a flag measuring twenty meters across, and all of that required detailed planning, from scouting locations 6 months ahead of filming to drafting a detailed storyboard.
The actor Edilson Silva was born in Condado, on the northern forest rim of Pernambuco. At the age of 28, the film world came knocking on his door in the form of director Marcelo Pedroso, who invited him to star in his feature-film "Brazilian Dream":
I was born in Condado, in the northern forest rim of Pernambuco, where games and folkloric traditions like Cavalo Marinho (Seahorse), Folia de Reis (Kings' Carnival), Bumba-meu-boi (festive bull run) and Maracatu Rural (a variation on the traditional maracatu) were always present in my life and the life of the town, and it was through these that I began to understand my people's culture, and started to make my own contribution to its continuance.
I'd always wanted to take part in the Maracatu Rural because I grew up there, watching it all and hearing the stories. The figure of the Caboclo de Lança (Caboclo Spearman) always fascinated me, but my father wouldn't let me take part in the presentations, because he thought I was too young to "be in the middle of it all". So I started learning how to produce the Caboclo's costume, making the collar and cuffs, all the accessories, and that was my way of becoming involved. It was only after my father's death that I was able to really join the Maracatu and become the Caboclo de Lança. I think I was 12 or 13.
I've been a bricklayer's assistant. I've worked in Maracatu, producing costumes and helping out with the administrative tasks at the Cultural Center in Condado. I worked at the sugar plant, where I even cut cane for a while.
I didn't cut cane for long, so I didn't really live the routine to an extent that it would have helped that much in the construction of the character. In the scene where I cut cane in a sort of dance, João (João Lima, cast coach) asked me for details of how I used to cut cane, how I used to hold the scythe, the movement I'd make with my body, and all that went into the choreography. I'd say that was main contribution my cane-cutting experience brought to the film.
SYNOPSIS
Edilson spent the last five-hundred years of Brazilian history cutting sugar cane. Then, one day, the machines arrived, and he left the cane fields to sign up for his first space mission. One small step for Edilson, a giant leap for Brazil.
PRESS
Marcelo Pedroso's visually and aurally stunning avant-garde satire Brasil S/A (Brazilian Dream) draws on experimental editing techniques of a political bent to channel images both surreal and documentary from the Brazil of the last decades to create an ecstatic cinematic experience. (Press releases FORUM 65TH BERLINALE)
Brazilian sugar-cane harvesters which transform themselves into astronauts to save their nation. Monumental excavators that dance ballet to opulent orchestral music. The national flag of Brazil triumphantly hoisted high on a gigantic building crane in the heavens above the skyscrapers…
BRASIL S/A – Brazil Inc. – is an Eldorado for the eyes and ears: bodies, machines and landscapes in heroic movement. Choreographies of a brave new world in which the sun always shines. Instead of individual plot threads, director Marcelo Pedroso creates thrilling images of a country of superlatives unwaveringly committed to a belief in progress and success. Individual images whose impressive assembly suddenly makes them seem not only cheerful and lovely but also chillingly monstrous – turning the thrill into a hangover. Pedroso's editing room is a rugged assembly hall in the factory complex of Brazil Inc., where the images themselves are turned into powerful tools in tandem with Pablo Lamar's brilliantly wrought soundtrack. A film without dialogue but with a powerful voice nonetheless, satirically calling into question the promises of progress. (Ansgar Vogt, Arsenal – Institute for Film and Video Art)
O pernambucano Brasil S/A, de Marcelo Pedroso, surpreendeu a plateia do festival com uma obra no mínimo inusitada. O diretor faz uma colagem de esquetes cômicas, sem diálogos, tendo como pano de fundo os absurdos da vida moderna. Trabalhadores sendo trocados por máquinas, burguesia que não tolera o trânsito e a família de comercial de margarina são parodiados no filme. Embora a obra tenha seus bons momentos, com imagens interessantes, o conjunto é um tanto incoerente, e o tal discurso social se perde na aleatoriedade das esquetes.
Manifesto sobre as duplicidades de um país em desenvolvimento que ainda procura "Ordem e Progresso". Pedroso sai da verborragia e abdicação da autoridade de Pacific e parte para o controle e confiança na força das imagens, estas que ressoam promessas de qualidade de vida e que criam mazelas irreversíveis.
A alma do negócio
por Raul Arthuso, CINETICA
As personagens se encontram ou impotentes pela visão de seu desastre ou subjulgados pela nova realidade do desenvolvimento. No país de Brasil S/A, a modernidade dita o ritmo do homem, as pessoas ficam entre a confusão de não saber lidar com a realidade e o automatismo, enquanto as máquinas são antropomofizadas – a colhedeira mostra os dentes afiados para o trabalhador rural; o caminhão-cegonha extrapola a metáfora do nome e ganha vida própria. Aí, o filme de Marcelo Pedroso encontra Jacques Tati: no embate do corpo com o espaço e os objetos, na coreografia de tratores, no desfile de automóveis levados por um grande caminhão-cegonha, na artificialidade desenhada da mise en scène que expõe as estruturas.
Adriano Garrett, CineVestiVais
Não se pode negar a ousadia do cinema de Marcelo Pedroso. Em seu longa-metragem Brasil S/A, o diretor pernambucano se arrisca ao realizar um trabalho que, adotando uma visão crítica sobre o desenvolvimento econômico brasileiro, prescinde de qualquer tipo de fala para fazer um painel alegórico do passado, do presente e de um possível futuro do país.
Francisco Cannalonga, Cinetoscopio
…mas, repito, ninguém sabia o que esperar e nada poderia nos preparar para o que se seguiria: Uma explosão de imagem, som e fúria, um dos filmes mais originais, corajosos e transgressores que se viu em bastante tempo, o cinema em sua maior potência, um cinema transformador. Esse é Brasil S/A.
Um ano depois, Pedroso conclui seu terceiro longa-metragem, uma ficção documental, ou documentário ficcional, lírica e trovadora que, de forma muito clara, expande os temas e as cenas de Em Trânsito. Brasil S/A, o filme sobre a história de um país que virou CNPJ, maximiza, aumenta o volume e sobe ainda mais a câmera para filmar em tons operísticos as sombras dessa zeitgeist nacional.
Por Cesar Castanha, Cineplayers
Não escolho como comparação duas comédias por acaso. O humor em Brasil S/A é essencial ao filme, apesar da seriedade de sua crítica (como também é muito sério o humor de Charles Chaplin), e é construído de forma realmente parecida com Jacques Tati: a partir do universo de ordem estranha e imbecil, representado esteticamente de maneira quase tão impecável quanto pretende ser, e tem essa sua ordem aparente revertida em ridículo pelo olhar do filme. Por momentos, Brasil S/A é particularmente genial. Por outros, não vejo funcionar tão bem. É uma escolha do filme (e acredito que em muito o favorece) se construir em esquetes, resultando em uma estrutura semelhante a um filme do Monty Phyton, por exemplo, com uma narrativa maior cercadas por momentos de aliança temática. E essa grande história, a do cortador de cana que se tornou astronauta, de humor mais sutil, é um espetáculo visual. Pedroso é um diretor de talento para virtuosismos.