Back to our catalogue
BEYOND HERE
original title: Outre Ici
2015, DCP, 72 min., French
adventure
mountain
mystery
CATEGORIES :
Thriller
,
Debut
COUNTRY:
Belgium
PRODUCTION :
CAST
Yoan Robin, Leslie Bouchet, Frédéric Evrard
CREW
Director
:
Screenplay
: Hugo Bousquet
Cinematographer
: Fiona Braillon
Producers
: Hugo Bousquet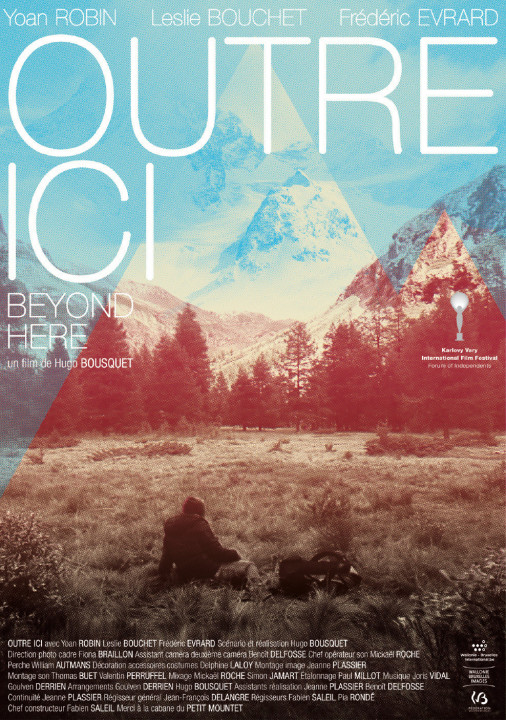 COMMENTS
Festivals Forum of Independents – Competition / Karlovy Vary International Film Festival 2015
Film's genesis
During my studies, I used to work every summer as an assistant watchman in a mountain hut of the Swiss Alps. Located over 2000 meters above sea level, you can reach the shelter after three hours walking from the last village in the valley. A summer job that has transformed over the years into precious summer retreat. My desire for filming often emerges from emotion related to a place. I was immediately struck by the power emanating from this telluric and wild landscape. It was obvious that I would do something there.
However, the idea of a film has really become concrete only several years later. I wanted to experiment a shooting where daily life and fiction would be closely intertwined. I was convinced that a singular atmosphere would be widespread in the film if I would put a small shooting team in autarky. I especially wanted to open a space for freedom and research. First regarding the writing aspect, which would remain minimal and flexible, then on the directing side, built on improvisation with the actors. A workshop where all of us could try something new. With a limited team and a minimum of equipment, we could shoot quickly and independently. With the hope that the film would conserve this energy, spontaneity and consequently testify a certain freedom of tone.
I submitted the idea to the keeper, also the hut's owner, and he immediately agreed to host the filming. At that time, nothing already was laid on paper. It was April and we decided that the shooting would take place at the end of the summer. It only remained to gather a crew to board this motionless boat.
Director's note
Léa and Basile are involved in a hazardous quest. They are a couple at the breaking edge, whose delicate balance is maintained in a headlong rush forward. A step succeeding the other, constantly pushing the fall away. So what happens when the movement stops ? When the break continues to the point of becoming stopover, and then residence ? When the bodies' rest paves the way to the most feared thoughts, previously kept at a distance so far away ? The stop of their progression forced them to make an inventory of their relationship, what still binds them one to another.
For driving idea behind the film, I wanted to put forward the hiatus between movement and immobility. Basile is in motion. His hope in a better future is bound to their progression toward Gondolin, always supposed to be beyond the horizon, beyond the pass which is overlooking them. On the other side, inaction and expectation feed his anxiety. Léa fears this uncertain future, a blurred eldorado that she confronts pragmatically to her current situation. She no longer believes in chimeras pursued by her companion and refuses to be deprived of the small pleasures arising around. And she finally asserts her refusal to go further. «Crossing a bridge, crossing a river, crossing a border means to leave the intimate and familiar space where one belongs, to enter a different background, a foreign and unknown space with the risk of discovering oneself without proper place nor identity, faced to what is different.
Therefore, polarity of human space is made of an inside and an outside. This reassuring, fenced, stable inside and this disturbing, open, mobile outside, ancient Greeks expressed them through a pair of united and opposite divinities : Hestia and Hermes. (… )
As far Hestia is sedentary, closed on humans and the wealth that she protects, Hermes is a nomadic wanderer, always running the world. He goes constantly from one place to another, making fun of the borders, fences, doors, which he crosses for amusement, at his will. (…) Opposed divinities of course, but who are also inseparable.
There is some of Hestia in Hermes and some of Hermes in Hestia. And this is on the goddess altar, according to the rite, in heart of private home or public buildings, that strangers, ambassadors and hosts came from far away, are welcomed, fed and housed. For a true inside to really exist, it has to open to receive it into himself and every individual must accept his share of Hestia and Hermès.
La traversée des frontières, Jean-Pierre Vernant, Seuil, 2004
Inherent in the concept of border, Vernant text appears on the Europe Bridge, which crosses the Rhine between Strasbourg in France and Kehl in Germany. The polarity submitted here, this share of Hermes (Beyond) and Hestia (Here), highlight for me my characters' relationship with the world. Basile is turned to the Elsewhere. However, he fears and distrusts the dangers from the outside and feels in a constant state of insecurity. Léa is more focused to build a home. She is turned to the inwards and the Here, but welcomes more willingly the stranger who shows up at the door. And the unexpected arrival of the Other ( Marcus) then provides a third way. New deal, conciliation or escape ?
The Cabane du Petit-Mountet, our base camp and main shooting location, was originally built as a stopover on the trade route to Zermatt. The pass that we see in the film marks separation between French-speaking Switzerland and German-speaking Switzerland. It is a linguistic border as far as physical. I wanted this dividing line to be present without having to locate the action in reality. The stranger had to speak another language than the couple and that wouldn't be Latin tongue. Belgium is well known for how the language can be vector of identitarian closure. The idea that the other would speak Flemish has therefore ultimately imposed itself. This would allowed us to keep an atopic style to the story, echoing the xenophobia that resurfaces everywhere in Europe.
These characters are migrants, even if they do not really know where they are going to. More than the hypothetical outfield located on the other side of the pass, the crossing becomes a goal in itself for Basile. I wanted to highlight how the mountain represent a barrier and a trap at the same time. This valley is a dead end. The only way out is the pass. This notion of confinement had to find a translation in image and sound. It was therefore established with the director of photography, that we would never show the summits nor the sky in the picture, as much as possible. The space should end in the depth of field, constantly reminding that the walls are there, surrounding them. Regarding the sound, I wanted this massive presence to be reminded to the viewer at any moment. A continuous, telluric and deep vibration, from which sometimes would emerge music, orchestrated to fit into the landscape, fetching disturbing and dark tones. The reference to the Alpine horn or Tibetan horn appeared all set to resonate with the confined space of the valley.
Hugo Bousquet
SYNOPSIS
Basile and Lea walk across mountains. They rob every shelters and huts found on the road, carrying away what may be. They seek to reach Gondolin. Basile hopes to cross the pass before winter but Léa is exhausted. A comfortably equipped refuge with significant reserves in food, firearms and ammunition, allows them some rest. After a few days Basile wants to leave. But while she appropriates the place, Léa tries to delay their departure.
PRESS
by Asha New, FilmDoo
Overall Beyond Here is a stunning example of how much can be achieved with a small cast and a limited setting for a film. It does a great job at creating an immersive and intriguing atmosphere; Lea, Basile and Marcus are interesting and varying characters, with plenty of depth. As a viewer, you are able to feel invested in them and their relationships before realising it and the development of these relationships, alongside the wonderfully offsetting music, creates an unnerving experience for the audience.