Back to our catalogue
Like Dew in the Sun
original title: Like Dew in the Sun
2016, Color and Black and white, 108 min., Russian-Ukrainian-English
cruelty
Donbass
Jewish stories
post-Soviet space
russian-ukranian war
Ukraine
DOCUMENTARY CATEGORY :
History / Archive
COUNTRY:
Switzerland
PRODUCTION :
CAST
Raisa Kasianenko, Hatadzhe Bekirova, Amdi Suleimanov, Oleksandr Lahutenko, Givi
CREW
Director
:
Screenplay
: Peter Entell, Elizabeth Waelchli
Cinematographer
: Jón Björgvinsson
Producers
: Peter Entell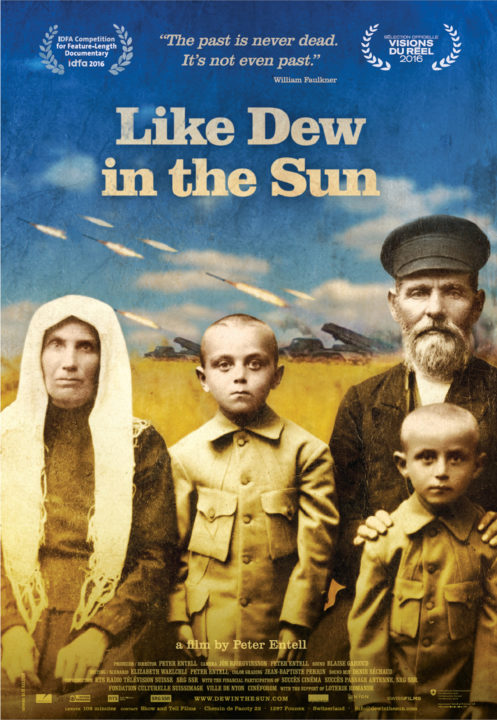 COMMENTS
International Documentary Film Festival Amsterdam IDFA 2016, Visions du réel Switzerland, ArtDocFest Russia, Trieste Film Festival Italy, Pärnu Film Festival Estonia, Tolerance Film Festival Croatia
Comment by the film director, Peter Entell:
I wish to thank the Jury for having the strength to watch the brutality shown in this film and the compassion to empathize with the people it portrays.
We have now entered a very dangerous moment in history, the Age of Trump — one characterized by anger and hatred, suspicion and fear, racism and an attitude of "us" versus "them" — Like Dew in the Sun is an appeal for tolerance and understanding. Though the film is anchored in the history of Ukraine, it speaks to the situation in so many countries today.
These are a few words that inspired me to make this film:
"The past is never dead. It's not even past."
William Faulkner
"We are the origins of war. Not history's forces, nor the times, nor justice, nor the lack of it, nor causes, nor religions, nor ideas, nor kinds of government, nor any other thing. We are the killers. We breed wars. We carry it, like syphilis, inside. Dead bodies rot in field and stream because the living ones are rotten. For the love of God, can't we love one another just a little? That's how peace begins."
James Goldman, Lion in Winter
"What History teaches people is that people learn nothing from History."
Kurt Tucholsky
SYNOPSIS
A century ago, the grandparents of film director Peter Entell had to flee Ukraine, a land torn apart by war and massacres. One hundred years later, Entell faces the same destructive nationalism. People continue to kill in the name of the mother country, flag, culture, religion …
The memory of the atrocities suffered by the Jews, the Tatar Muslims of Crimea, and the Orthodox population, is transmitted from generation to generation, and with it the poison of hatred.
Crossing checkpoints, Peter Entell takes us from the loyalist Ukrainians to the pro-Russian separatists. The purpose is not to show who is right or wrong – humanity itself is defeated. In the midst of this senseless violence, Like Dew in the Sun transcends cultural, religious and national differences to uncover the deeper bonds that unite us all.
PRESS
Di Mariangela Matonte, GeoMovies
Peter Entell, regista di origini ucraine, la attraversa coraggiosamente questa guerra con il suo bel documentario Like Dew in Sun, ripercorrendo sulle tracce della sua famiglia, le "ragioni" di questo conflitto.
I due viaggi si intrecciano, quello personale di Peter negli archivi del Paese e quello nelle due anime ucraine.
Da un posto di blocco all'altro Peter ci porta dagli ucraini governativi ai separatisti filo russi restando fedele, da vero documentarista qual è, ai dettami del genere: alto valore informativo e aderenza alla realtà, senza ammiccamento alcuno.
The past is never dead. It is not even past. (William Faulkner)
Non a caso Like Dew in the Sun si apre con questa frase profetica, infausta.
In Ucraina il passato è presente e il futuro, quando diventa presente, ricalca il passato. Inesorabilmente, di generazione in generazione.
Le testimonianze raccolte da Peter Entell raccontano della travagliatissima storia delle popolazioni che nei secoli si sono succedute affastellandosi in questa terra disgraziata.
The director's story is transformed (perhaps) involuntarily into the story of an entire people, lost in its own madness. The past, which is inconsistent but no less powerful as a result, is only evoked through the accounts of the few who remained and a handful of yellowed family photos. The phrase "The past is never dead, it's not even past" (William Faulkner) is shown at the beginning of the film; a prophetic and wise phrase that sounds strangely familiar among the sounds of machine gun fire and the choked sobbing of those who are not (yet) dead. Peter Entell captures the Ukraine and its endless contradictions, imprisoned between a past he's dreamt of and wants to rediscover, and his incomprehension of a horror that seems to have no end. The director teeters between these realities, managing to keep his balance between the two and bringing us a personal yet sincere portrayal of a terribly deep-rooted tragedy.
In other words, this is a film about human nature. In the documentary, the director meets Russian sympathisers and nationalistic Ukrainians. He wasn't interested in who was right or wrong, but in what provoked the extraordinary depth of enmity between them. Entell would show them the old black-and-white photograph of his family. They were immediately intrigued. Entell wasn't just another filmmaker from abroad, looking in at the conflict. He was one of them, a trusted fellow countryman. The director would then disarm them even more by asking – do they like to sing? Of course, they like to sing. They are Slavs. So they then burst into song.
by Willemien Sanders, Moderntimes
Entell briefly responded: "We have now entered a very dangerous moment in history, the Age of Trump – characterised by anger and hatred, suspicion and fear, racism and an attitude of 'us' versus 'them'. Like Dew in the Sun is an appeal for tolerance and understanding. Although the film is anchored in Ukraine history, it speaks to the situation facing so many countries today."  
The narrative of Like Dew in the Sun is complex yet sensitive – the finale borders on the melodramatic. Entell cuts some dried earth from the old Jewish cemetery, now merely a cattle grazing field, and asks to mix it with his ashes "when the times comes". Having said that, it was a profound relief to watch a feature documentary which is not formatted to fit the ubiquitous storytelling straitjacket.
In the hunt for his relatives, Entell continues to travel around the country, he delves into archives, and with some help and an interpreter, he painstakingly goes through the files of the Jewish people who fled from the Ukraine in 1814.
A few years ago, Jean Perret, the previous director of Vision due Réel said that for one week the world comes to Nyon through the medium of film. In Like Dew in the Sun we are indeed thrown in to another world of the lives of the people on Entell's journey, from the modest home of a gold-toothed woman serving tea as her husband tells stories of the war in his childhood, to the harrowing scenes of soldiers today being captured and the fear in their eyes as they await their fate. We see lovely limestone rocks and cliffs in Bakhtchyssarai, a city in central Crimea, sunflower fields en route, beautiful blues and turquoises of the wooden homes in small villages, and bright traditional costumes on the local women. The women sing but the world we see most of is darkness, fighting, sadness and conflict.