Back to our catalogue
CONVICTIONS
original title: UBEJDENIA
2016, 61 min., Color/ Black and White, Russian
absurd
antiputinism
bureaucracy
conscription
human rights
juvenile
LGBT
post-Soviet space
russian-ukranian war
vicious circle
CATEGORY: Dark Comedy
COUNTRIES: Russia, Poland
PRODUCTION :
FESTIVALS & AWARDS
CREW
Director :
Screenplay
: Tatiana Chistova
Cinematographer
: Maria Falileeva
Producers
: Maria Chuprinskaya, Vlad Ketkovich, Maciek Hamela, Tatiana Chistova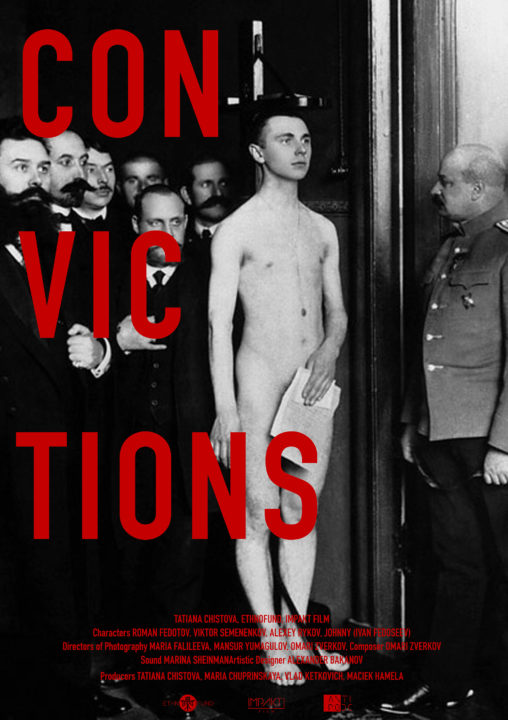 COMMENTS
A documentary comedy about the obligatory conscription of young people having reached 18 in the Russian army.
Director's comments:
Film. My film is about people, about the time, about children. It is really not much about the alternative civil service. I do not know much about it. I know that some of those lads serve in the Ministry of Emergency Situations, my heart is open for such people.
People. Nowadays, we use to prize such things as the public opinion, personal situation or career. It is not easy to tell the public: "dear people, I am not much interested in your priorities and attitudes; I prefer just to read Kant and leave you alone". It might be easier to do so at home or among your pals but if you tend to have such philosophical conversations, an enlistment office is probably not the most propitious place.
Place. The film could be shot anywhere: in a shop, on a beach, in a clinic or in a club. The people would be the same and the story would be similar. However, such story would be interesting for a much lesser amount of people. We live in a time, when it starts being important for everyone to know about the enlistment office. As a Soviet rhyme used to say, "We stand for peace, we prepare a war, you are not a Shapiro [common Jewish surname] to stand aside". Personally, I would prefer to stand aside. I also have a great respect for those who, not content with simply not participating, try their best to resist. Such people may be eighteen-year-old bookworms and A level students. I think they are a benefit.
Benefit. It is one of the topics of the film. It is not the most evident of them, but it is very important. We live inside a state, and this state lives inside us. Much in our behavior, in our habits and in our personality itself is defined by the system. It is great when a person wishes to be a benefit to the society. On the other hand, when the state considers its citizens from the point of view of benefit to the state, it is very unpleasant. From this point of view, a poet is a good-for-nothing, is a person completely unfit.
Fitness category. Defined by medical profile, every Russian man from 18 to the old age has a fitness category A, B, C or D. Just anyone, including lepers and Olympic champions. I do not like people being put in categories. I feel myself in a shop where they sell different kinds of meat or magazines for different age categories.
Magazine case, forestock, lock etc. I never saw a machine gun manual. Its introduction should speak about tasks and goals. It seems to me it does not contain any truth.
Truth. Nowadays, if you come to a state institution and try to speak truth, they would send you to a psychiatrist or prosecute you. Only a madman can have such an idea, of all humans.
Human. There are some real humans in this film.
SYNOPSIS
In 1987, United Nations Commission on Human Rights approved the Resolution on Conscientious objection to military service based on "thought, conscience and religion". In Russia, the right to have an alternative civil service was guaranteed for the first time by the 1993 Constitution.
According to the law, the right to object to the military service is not limited to the believers. Other citizens may declare that their personal convictions (pacifist, philosophical, moral, ethical, political) are incompatible with military service. Those serving the alternative service work as librarians, hospital attendants, archivists, circus and theatre workers etc.
Sounds great – the peaceful labour is wonderful. However, there is one problem: once you come to the enlistment office, you have to prove that your convictions are indeed what you say. It is up to the draft board to decide what do you really believe…
Four stories of young men's encounters with army recruitment commissions. Ardent pacifist Roman is sent through a series of humiliating court trials. Losha and Viktor endure long and condescending deliberations that undermine their personalities. Finally, LGBT movement veteran, Johnny is bluntly rebuked and handcuffed. All are put to test by a bureaucratic machine that doesn't sympathize with those who dispute the purposiveness of military service.
The coscript enters a room packed with officials. The officials have to listen to his convictions that go in conflict with the idea of military service. It's for the officials to decide whether the conscript leaves the room  as a soldier or as a civilian.
A sneak peak into what it really means to stand up for one's beliefs in a re-militarized society that punishes conscientious objection under criminal law.
We are observing the process of decision making, the conscript and the officials, the time passing by and all the details that make life what it is.
PRESS
by Steen Müller Filmkommentaren
This is where the director comments directly on the consequence of the absurd theatre, which is a reality in Russia today, some call it mobilisation. The film shows a generation gap between the young ones who claim for pacifism and the stone-age panel, who has to act according to some paragraphs, they don't understand. Is it a sad film, of course it is, on the other hand you feel happy to see the bravery of the young ones, who dare stand up for their convictions.