Back to our catalogue
About Love
original title: Pro lyubov
2015, DCP, 115 min., Russian
CATEGORY :
Lyrical Comedy
COUNTRY:
Russia
PRODUCTION :
FESTIVALS & AWARDS
CAST
Renata Litvinova, Vladimir Mashkov, Yevgeny Tsyganov, Mikhail Efremov, Maria Shalayeva, Yulia Snigir, Alexei Filimonov, Alexandra Bortich, Maria Danilyuk, Ravshana Kurkova, Yuri Kolokolnikov, Vasily Raksha, Alexandr Robak, Maxim Lagashkin, Alexei Makarov, Christina Isaikina, Miyako Shimamura, Keisuke Shibazaki
CREW
Director
:
Screenplay
: Andrei Migachev, Anna Melikyan
Cinematographer
: Fedor Lyass
Producers
: Anna Melikyan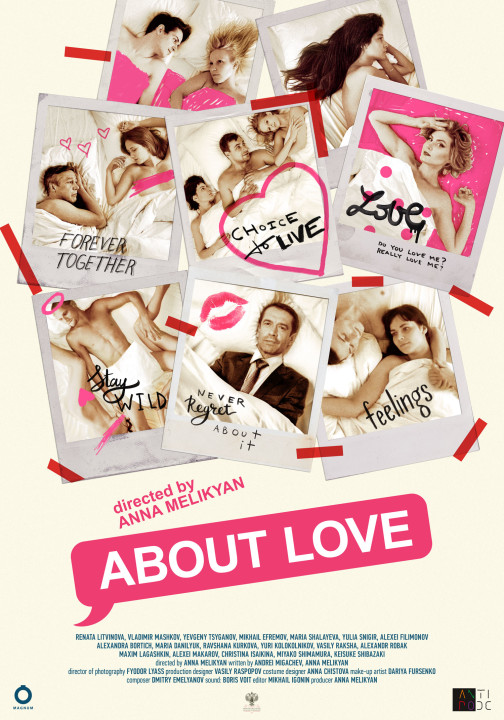 COMMENTS
FESTIVALS: Filmfest München 2016
An Atypical  Movie
ANNA MELIKYAN: This movie is not typical for me at all. First of all it should be noted that this time no one dies, no beautiful girl perishes in the final episode and, sadly, no man either. No more deaths, from now on we will LIVE, LOVE and ENJOY LIFE!
The movie is unusual in every respect. The idea was conceived and the film completed in a very short time. Usually I nurse ideas for years, but this time in winter we thought why not make such a movie and in summer we were shooting it.
Usually casting takes a lot of time, I try to find unfamiliar faces, but this time I felt like inviting well-known actors and casting was completed in two weeks. Pre-production took one month, the shooting required another 25 days. I never experienced anything like this before. But I knew that such a movie could be made only in such an easy-going way, having fun, not agonizing over everything.
Usually I shoot more than is required. We had to cut 40 minutes of edited footage from "The Mermaid", we had to cut 55 minutes for distribution. "Star" lost two hours. We did not cut anything from this movie, we shot it exactly as we imagined it.
And the strangest point about this movie is that usually I don't like my own films and I absolutely can't watch them at the finishing stages of post-production, but I DO LIKE THIS MOVIE!
Production Notes
It often happens that a minor selfless good deed gives rise to something important and meaningful for yourself. A few years ago Svetlana Bondarchuk suggested that I should take part in a charity project "Action": several directors were to make shorts without getting any money and using any means they had at their disposal, even an I-phone. Then the films were to be sold at an auction, the new owners got the rights and the money went to charity foundations. Thus I shot my first short "About Love", which was followed by "About Love 2" a year later. These little stories were very dear to me, not to mention the fact that none of my movies enjoyed comparable popularity on the Net. It was evident that the expectations of the audience coincided with my interests, that people wanted to see real stories about human relations, about men and women, about love and sex without schmaltz and lies, without grumbling and moralizing, they wanted simple stories about love told lightly and merrily. I realized it was my theme, I felt at home in it, I wanted more and more of these tales. That is how the idea was born to assemble all these short stories into a full-length movie.
At first I intended to add a couple more stories to the existing ones, but when we started working at the script it became obvious that old material did not fit into the new concept, so we had to create the movie from scratch. We did not change the title, because it is all ABOUT LOVE.
SYNOPSIS
It is a feature-length film consisting of various novellas about love, about the relations between men and women in the city, about such things that all people talk about, pretending at the same time that they are not the main thing in life.
The novellas are not linked one with another by storyline or by actors, but they are brought together by the a lecture about love. The lecture is delivered to the university students by Renata Litvinova's character.
NOVELLAS
Anime – Maria Shalayeva, Yegor Koreshkov
The Proposal – Yulia Snigir, Vladimir Mashkov
Japanese People – two Japanese, Yuri Kolokol'nikov, Aleksey Makarov
About Beauty – Yevgeny Tsiganov
Change of Dishes – Renata Litvinova, Mikhail Yefremov
The lecture about love – Renata Litvinova
The first novella, Anime, is about a young guy and a young girl who, similar to many of their peers, prefer to live in the fictitious world of animated characters from Japanese cartoons. Every day they put on a heavy make up and dress as their chosen characters to be able to forget who they really are. They prefer to fall in love, to meet friends and communicate with them without leaving the world of anime. An attempt to return to ordinary life and recover their true identities is  a disappointment for both of them. Finally, they take a decision to stay in the anime world, because it turns out that for these young people it is the only way to experience strong feelings.
The second novella, A Proposal, puts a young and attractive girl in a situation of choice. She can either choose an easy life under the patronage of a successful but cynical and cruel businessman or a life which will probably be full of hardships and privations, with a man who is lazy and not really ambitious but whom she loves. Finally, under the pressure of circumstances, her beloved proposes to her.
The third novella is Japanese People. The heroine is Japanese. She is charmed by the Russian culture, by its deepness. Under the influence of this charm, she invents an image of a Russian man, inspired and educated. She comes to Russia to look for such man, she visits a festival of Russian culture and tries to make acquaintance with young people. But she is greatly disappointed when she finds out that the majority of Russian men are not interested by culture and artistic heritage of their people. During her research, she does not remark that she meets all the time her compatriot, who came to the festival just like her and whose knowledge of Russian art and Russian music is no less profound then hers. During their meetings and conversations, they become closer and closer. Finally, she understands she met her destined one.
Fourth novella, About Beauty, tells about a young guy who is most probably talented but tired of life. He dates beautiful girls whose feelings for him range from passion to tenderness but who cannot awaken anything inside him. The only thing that can touch his heart and give him inspiration is an external manifestation of momentary beauty. Every time when he sees a beautiful girl, he is electrified with emotion and his reaction gives a hope to this girl. But it is nothing but an illusion.
In the fifth novella, Change of Dishes, the main character is Renata Litvinova who is delivering a lecture about love during the whole film. Her lecture is the thread linking all the stories together. A story about her explains why she knows the topic so well. She is the ex-wife of an influent man who, without taking her feelings into consideration, asks her to help him. He offers her money to make a psychological portrait of his new girlfriend, young and incredibly well-looking, that he believes to have found 'in the street'. He is greatly amazed to hear that this girl 'from the street' is an experienced hunter, looking for influent men, and all his feelings are a result of a well-planned operation. He tries to free himself from this intrusion but does not succeed. Finally, he resigns and even starts to like the situation.
PRESS
Tatiana Rosenstein, KINO & KUNST
Wenn es um die Liebe geht, hat man den Eindruck, dass in Moskau alles so bleibt, wie es bereits vor zwanzig Jahren nach der Perestroika war…Das Leben in einer Stadt, in der die Männer in der Minderheit sind und pro Kopf je fünf Frauen haben ist eben hart. Für die Frauen. Doch gerade sie offenbaren sich in dieser witzigen und flotten Komödie der russischen Regisseurin armenischer Abstammung als klug, wissenshungrig, verantwortungsvoll und flexibel im Vergleich zu dem infantil, unbekümmert, hinterhältig und unsicher dargestellten "starken" Geschlecht. Es gibt noch eine wichtige Gestalt in diesem Film – die russische Hauptstadt selbst, sonnig, kosmopolitisch, schön und übrigens auch weiblich.
Die Regisseurin bemüht sich, wie es scheint, mit dem popkulturellen Zeitgeist zu gehen: Graffitikkünstler und Straßenmusiker, Maskerade und Verkleidung als Comic-Figur, Animé-Charaktere als Augenfang und Nichtbeachtung der privaten Person dahinter, eine Polizistin, die sich überreden lässt als Sailor Moon zu gehen, viel Internetkommunikation, Skype, Chat und sms, Blind Date über Internet (und die bösen Gefahren dabei, eine Falle) Internetliebeskommunikation in steinzeitkinematografischen Parallelschnitten eingefügt. Ab und an Moskaumonumente und ganz keusch ganz viel Tuch über den Bettszenen.
Anna Melikyan, who remained silent for a long time after "The Mermaid" came back last year with "Star" and a year later directed "About Love" which demonstrates that she is in top professional shape and at the height of her energy. The mastery, the gusto, the accumulated energy – this is cinema made with fiery eyes. – Lelia Smolina, GQ
Anna Melikyan is one of the few Russian directors who feel their audience… Melikyan's cinematic language multiplied by the airiness of the almanac and the cream of Russian film actors becomes the only voice of Russian art mainstream. – Maxim Sukhaguzov, Afisha Air
"About Love" is an almanac of five stories, the unobtrusively witty cinema, – Yaroslav Zabaluyev, Gazeta.ru
An almanac of romantic stories from Anna Melikyan, the author of last year's "Star" and now definitely the main present-day woman director in Russia… The word "Love" is written with the capital letter in the title for a reason. In effect Melikyan shot a clever and very lively hymn to the bright feeling of the city generation. – Alexei Bagatov, BURO24/7
"About Love" seems to be Melikyan's simplest and most mature movie. A collection of independent novellas about city life creates an integral story stating that our only need is love. – Natalia Grigorieva, "Nezavisimaya Gazeta"